Pradaxa side effects have been linked to an increased risk of internal bleeding and stroke. We are working with some of the leading Pradaxa lawyers in the United States. A claim and/or Pradaxa lawsuit can be filed on your behalf and there is no fee until you receive an award or a Pradaxa settlement. Contact us for a free consultation online or toll free at 1-800-992-6878.
This text will be replaced
Manufactured by Boehringer Ingelheim, Pradaxa was approved by the FDA in October 2010 and released on the market shortly after. Though Pradaxa was heavily marketed to be superior and more convenient than the traditional medication, Warfarin, the extreme number of severe side effects resulting from Pradaxa use has many people questioning whether Pradaxa should be recalled.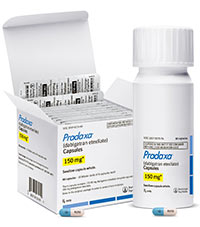 Though many side effects, such as heart attacks, strokes, and acute renal failure, have been linked to Pradaxa, the most prevalent Pradaxa side effect is internal bleeding/hemorrhaging. Though Pradaxa is proclaimed to be superior to Warfarin, Warfarin has far fewer reports of adverse effects and has an antidote to stop the bleeding. While Warfarin-related bleeding may be stopped with the use of Vitamin K, Pradaxa bleeding has no antidote. This may explain why the FDA received more adverse event reports from Pradaxa use than any other drug in 2011. A large percentage of these reports, including over 540 deaths, were related to Pradaxa bleeding.
Signs/Symptoms of Pradaxa bleeding:
Frequent nosebleeds
Pink or brown urine
Vomiting that resembles blood or looks like coffee grounds
Red or black tarry stools
Coughing up blood
Bleeding from the gums
Unusual bruising or bleeding / hemorrhaging
Joint pain or swelling
Swelling of the arms, hands, feet, ankles or lower legs.
Lethargy
Headaches
Dizziness
With all the severe Pradaxa side effects being reported and the still-growing number of Pradaxa deaths, the FDA has expressed its concern with the drug and stated that it will be looking into/investigating the situation.
If you have any of the above symptoms and believe that you suffered these because of your use of Pradaxa, you may have a valid lawsuit against the manufacturer.