Pradaxa side effects have been linked to an increased risk of internal bleeding and stroke. We are working with some of the leading Pradaxa lawyers in the United States. A claim and/or Pradaxa lawsuit can be filed on your behalf and there is no fee until you receive an award or settlement. Contact us for a free consultation online or call us toll free at 1-800-992-6878.
Pradaxa Side Effects
Manufactured by Boehringer Ingelheim, Pradaxa was approved by the FDA in October 2010 and released on the market shortly after. Though this drug was heavily marketed to be superior and more convenient than the traditional medication, Warfarin, the extreme number of severe side effects resulting from its' use has caused many to question whether it should be recalled.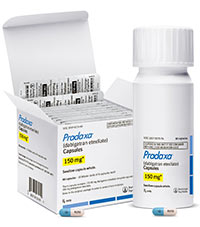 Though many side effects of Pradaxa are heart attacks, strokes, and acute renal failure, the most common side effect is internal bleeding/hemorrhaging. Though the drug is proclaimed to be superior to Warfarin, Warfarin has far fewer reports of adverse effects and has an antidote to stop any internal bleeding it may cause. While Warfarin-related bleeding may be stopped with the use of Vitamin K, bleeding caused by this blood thinning medication has no antidote. This may explain why the FDA received more adverse event reports from Pradaxa use than any other drug in 2011. A large percentage of these reports, including over 540 deaths, were related to internal bleeding.
Signs/Symptoms of Internal Bleeding:
Frequent nosebleeds
Pink or brown urine
Vomiting that resembles blood or looks like coffee grounds
Red or black tarry stools
Coughing up blood
Bleeding from the gums
Unusual bruising or bleeding / hemorrhaging
Joint pain or swelling
Swelling of the arms, hands, feet, ankles or lower legs.
Lethargy
Headaches
Dizziness
With all the severe side effects being reported and the still-growing number of deaths, the FDA has expressed its concern with this drug and stated that it will be looking into/investigating the situation.
Pradaxa Lawsuits
Though this drug has only been on the market for a short time, it already tops the FDA's list of total adverse reports. This list, which contains almost 3,800 adverse reports, includes over 540 deaths, nearly 2,400 hemorrhages, 291 reports of acute renal failure, and over 640 strokes.
With the number of serious side effects, Boehringer Ingelheim (the manufacturer) now faces many lawsuits on behalf of those who have been injured by the drug. The most recent lawsuit, filed in Illinois, relates to cases of excessive gastrointestinal bleeding that led to hospitalization and a subsequent blood transfusion. Like the other Pradaxa lawsuits, the claims in this case against Boehringer allege the drug is a dangerously defective medication, and that Boehringer failed to warn of its associated risks.
If you or a loved one has suffered injury from Pradaxa use, contact a dangerous drug attorney today.
In order to prove that you have an injury that should be compensated for by the drug manufacturer, you must prove the drug either did not have adequate warnings, was defective in the condition it was put on the market in, or that this form of the drug that you took was in some way defective. Additionally, you have to prove that the drug did in fact cause the side effect or disease that you were diagnosed with.
Many different experts and medical opinions are needed for these cases. Experts are brought in to prove that the drug is in fact defective. These lawsuits are very time-consuming and detail-oriented, but if you have one, you deserve compensation for your injuries. Hiring an experienced Pradaxa lawyer can help you make important personal decisions regarding your potential claim.
Pradaxa Whistleblower Lawsuits
A federal judge recently ruled in the on-going multi-district litigation against Boerhinger Ingelheim that plaintiffs will have a chance to discover information detailing the company's whistle-blower lawsuits. Despite an attempt by the Boerhinger attorneys to put a protective order on the information, the judge ruled that information regarding the company's $95 million settlement to end whistleblower claims about Micardis, Atrovent, Combivent, and Aggrenox is relevant and should be discoverable to plaintiffs.
Because those previous whistleblower lawsuits dealt with the manufacturer improperly marketing and promoting four other drugs, a judge held that Pradaxa plaintiffs are entitled to inquire and discover information about those past allegations of improper conduct – especially claims by former company insiders. Additionally, because many of the Pradaxa claims involved in this multi-district litigation similarly claim the manufacturer improperly marketed and failed to disclose the drug's severe side effects, the establishment of consistent improper conduct by the company is certainly relevant.
Pradaxa Medical Studies
Recent medical studies have linked use of this medication to a substantially increased risk for internal bleeding, acute coronary syndrome (ACS), and heart attacks. These studies have included tens of thousands of patients and have been in prestigious internal medicine publications. One conclusion from these studies is that patients taking this blood thinner are at a 33% higher risk for heart attacks and ACS than patients taking any alternative blood-thinner or placebo.
Another study, which tested the number of severe complications in patients taking Pradaxa versus those taking the alternative Warfarin, found that the number of adverse reports associated with Pradaxa was 12 times higher than with Warfarin. These adverse reports included one deep venous thrombosis, one atrial thrombus, one transient ischemic attack, one skin rash, four patients with gastrointestinal complications, four internal bleeding episodes, and one death.
All of the controversy surrounding these side effects has caught the FDA's attention. The FDA expressed concern with all the reports of severe complications resulting from use of this blood thinner, and has stated it is looking into and investigating the situation. Outside of the FDA, people everywhere, including prominent medical malpractice attorney Robert K. Jenner of Baltimore's Janet, Jenner & Suggs, have demanded that the medication be recalled immediately.
About Pradaxa Manufacturer
This drug was manufactured by the German pharmaceutical company, Boehringer Ingelheim. Albert Boehringer founded the company in 1985 and it has grown to be one of the world's 20 leading pharmaceuticals, with 145 global affiliates and 42,000 employees. Beginning in June 2012, the launch of Pradaxa was a great success in the drug company's history, before the drugs' dangers were revealed.
Pradaxa is an anticoagulant drug intended to reduce the risk of stroke and embolism caused by Atrial fibrillation (Afib). Afib is a condition that causes irregular heartbeat, increasing the chance of blood clots in the body and the chance of strokes. However, it has been linked to fatal side effects such as causing uncontrolled excessive bleeding in patients. Moreover, what makes the drug more dangerous is that, unlike traditional blood thinning medications, there is no way to reverse its process. One doctor mentioned he expects a 5% increased lifetime risk of heart attack for patients on the drug for 10 years.
On August 8, 2012, a Pradaxa Multidistrict Litigation (MDL) was established in the U.S. District Court of the Southern District of Illinois to consolidate all the lawsuits claiming injuries from the drug. By the end of August, there were nearly 80 lawsuits in the MDL. One of the plaintiffs in the lawsuit suffered bleeding complications from the drug and was hospitalized for four days. Even worse, in the first 5 months the medication was prescribed, there have been 500 cases of life-threatening bleeding and 117 deaths from taking this drug. However, in spite of growing litigation, there is still no sign of a drug recall.
Contact the Law Offices of d'Oliveira & Associates
If you or one of your loved ones has been injured by pradaxa, you may want to speak with a personal injury attorney regarding a potential claim. An injury lawyer familiar with the ongoing pradaxa investigation may be able to offer you important legal advice. d'Oliveira & Associates is working with some of the better dangerous drug lawyers in the country who have experience handling these cases.
Contact our office at 1-800-992-6878 or fill out an online contact form for your free legal consultation.